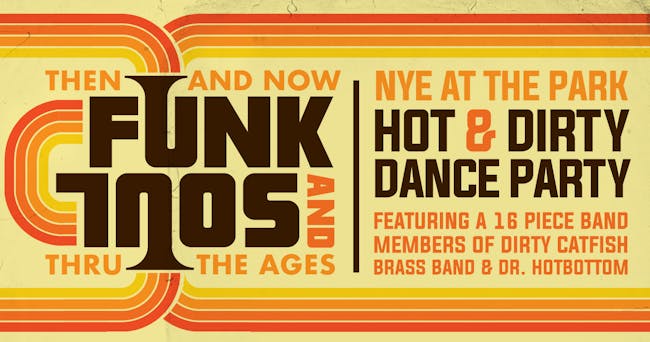 Music of Then and Now performed by the Hot and Dirty Dance Party
Dirty Catfish Brass Band
Dr Hot Bottom
$47.79 - $301.25
Sales Ended
A Funk and Soul Dance Party, with music from Then and Now
Nothing quite says New Year's Eve like an Epic Era party at The Park Theatre. This year we are once again getting Funky and heading back to the 70's, Hot and Dirty style. Come, get down and funky with us!
Our New Years Eve Parties always sell out well in advance, so don't delay and make your plans today!
What is a Hot & Dirty Dance Party? Well, Dirty Catfish Brass Band and Dr. Hotbottom combine forces and create a 16 piece band to present original material and to celebrate the great soul and funk music of the 70s. Featuring music from all of your favourites of the era, including but not limited to Tower of Power, Earth Wind & Fire, Michael Jackson, Stevie Wonder, Kool, and the Gang and much more.
If you have ever been to one of our epic era New Year's parties, you know what to expect. If you don't… This is our annual New Year's Eve party where we take one of our favourite decades and we bring you the music, the clothing, and all of the fun that goes along with it. This year we are taking on the 70's, so put on that groovy dress, bell bottoms, or dashikis & let's get down & party all night!
Tickets are $39.99 and that includes, great food, champagne at midnight, our balloon drop, light show, and of course hours of great live music.
Grab your tickets from the link above. Physical tickets available at The Park Theatre. Last year we sold-out well in advance, so get a jump on everyone else and get your tickets today.
Venue Information:
The Park Theatre
698 Osborne St

Winnipeg, MB, R3L2B9