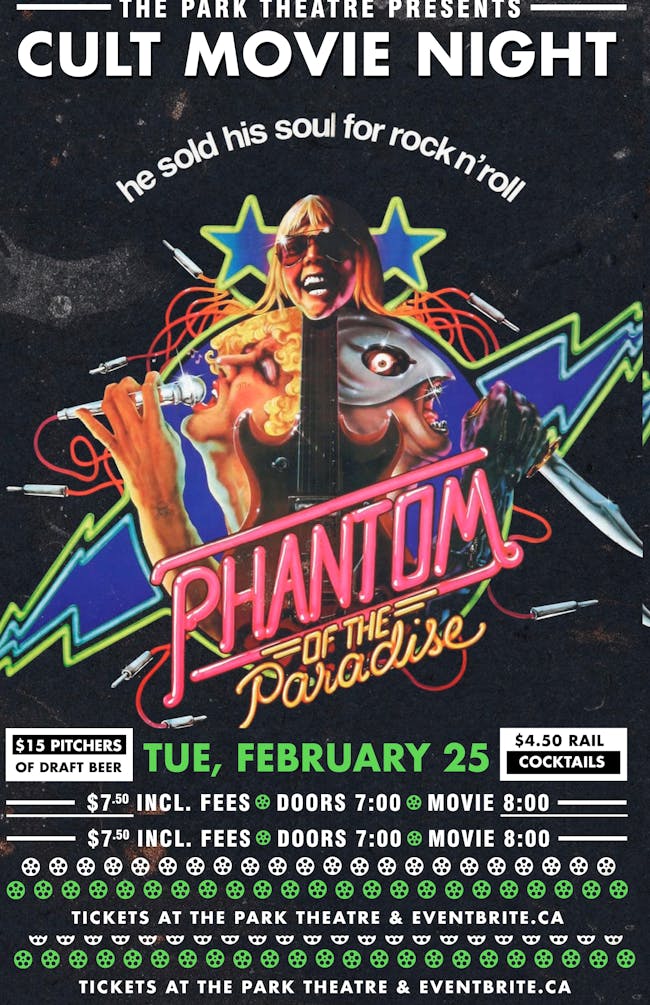 Winnipeg all-time favorite returns
Park Cult Movie Night Presents
Phantom of the Paradise
Tuesday, February 25th, 2020 SOLD OUT
But An Encore Screening has been added, for Wednesday, February 26th click here for tickets
Doors 7 pm | Show 8 pm
Tickets $7.50 with fees
"The underground revival of Phantom of the Paradise—Brian De Palma's 1974 musical-satire horror-comedy whatzit—stands as one of the weirdest, and unlikeliest, in the murky annals of cult cinema. The film stars William Finley as the hopelessly earnest singer-songwriter Winslow Leach, and features actually hopelessly earnest singer-songwriter Paul Williams (who wrote for the Carpenters and Three Dog Night) as Swan, a Mephistophelean record producer who steals Leach's music and dilutes it to the lowest common denominator. Enraged and mutilated after getting his face smushed in a record press, Winslow shrouds himself in leather, hides his disfigured gourd behind a silver bird-like helmet and wreaks havoc on Swan's decadent rock club, the Paradise.
The film was a commercial and critical failure: too weird (one character chuffs palmfuls of coke while wearing a belt made of antlers), tonally schizophrenic (vacillating between goofball comedy and Greek tragedy, often within a scene) and unusually prescient (it forecast the ascendancy of goth rock and reality TV) to find an audience.
Save for two places. There was Paris, where discerning aesthetes operate on another altitude of ahead-of-the-curve irony (see: their appreciation of Jerry Lewis). And, much more improbably, there was Winnipeg.
Across North America, Phantom opened and closed within a week. In Winnipeg, it ran continuously for four months following its release, then on and off until 1976." – Maclean'sCult Movie Night at The Park Theatre
Venue Information:
The Park Theatre
698 Osborne Street
Winnipeg, MB, R3L 2B9