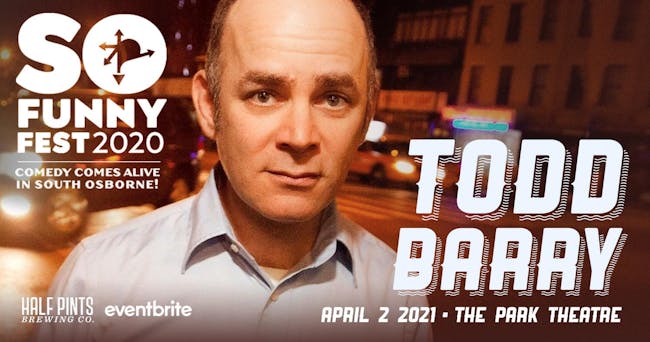 First Annual SO FUNNY FEST Presents Todd Barry
So Funny Fest and the Park Theatre Presents
Todd Barry
Friday, April 2nd, 2021
Doors 7 pm | Show 8 pm
Arguably one of the best stand-up comedians working today, Todd's long and storied career has taken him a lot of places, we are happy it has finally brought back to Winnipeg.
New York City-based comedian and actor Todd Barry is widely recognized for his roles as the bongo-playing "Third Conchord" on HBO's Flight of the Conchords and Mickey Rourke's deli boss in 2009 Oscar winner The Wrestler, and renowned throughout the entertainment industry for his nuanced, measured, and thoroughly original approach to stand-up.
Drawing audience members in with his deadpan self-deprecation and ability to pile punchline upon punchline, his decidedly low-key stage persona belies a deeply intelligent, often biting, occasionally absurdist worldview, one lauded by discerning fans who seek a fresh yet honest update to traditional observation and social commentary.
Boasting multiple stand-up appearances on The Late Show with Stephen Colbert, Late Night with Seth Myers, Jimmy Kimmel Live!, and numerous appearances on Jerry Seinfeld's Comedians in Cars Getting Coffee, Todd is also a regular on Bobs Burgers, the Jim Gaffigan Show, as well as 60-plus other shows and movies, including 2008's The Wrestler.
Internationally he has performed at the Edinburgh Festival Fringe, the Melbourne International Comedy Festival, Montreal's Just For Laughs Festival, the Vancouver International Comedy Festival, and Kilkenny.
Todd has been heard on both The Howard Stern Show and The Bob & Tom Show, and his albums Medium Energy, Falling Off the Bone, and From Heaven are available from Comedy Central Records, Amazon and iTunes. He has earned the U.S. Comedy Arts Festival's Jury Award, praise from Ricky Gervais as one of the best comedians of 2009, and accolades from The Onion's A.V. Club, which declared Medium Energy one of the best comedy albums of the decade.
Todd was the subject of a recent New York Times Arts section cover story, which referred to him as a "master of standup" and noted "when it comes to live performance, few comics are more consistently funny."
In April 2013 the Todd Barry Podcast debuted. It reached #1 on the iTunes chart.
"Comedy savants revere this Conan and Letterman veteran's hushed, singsong sarcasm." – Entertainment Weekly
"Piercing, blinding, slaying, violating wit." – NPR
"Infuses his observational comedy with a wonderfully individual disdain." – The Times of London
"He doesn't suffer fools, and fortunately for his comedy his definition of 'fool' doesn't discriminate." – Pitchfork.com
"Acerbic wit, deadpan delivery and wickedly smart punchlines." – Time Out New York
"Barry is so beautifully arid he is positively parched." – London Evening Standard
"The success lies with the delivery, and in his ability to seamlessly merge ad-libbed material with his prepared schtick." – The Age, Melbourne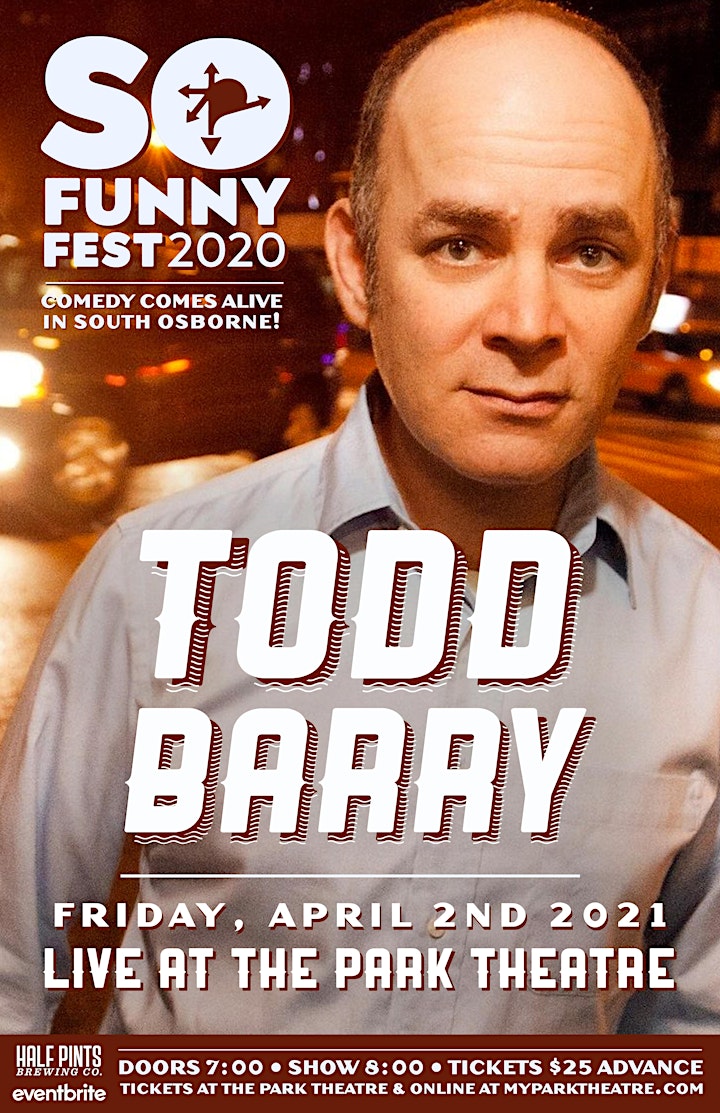 Venue Information:
The Park Theatre
698 Osborne St

Winnipeg, MB, R3L2B9